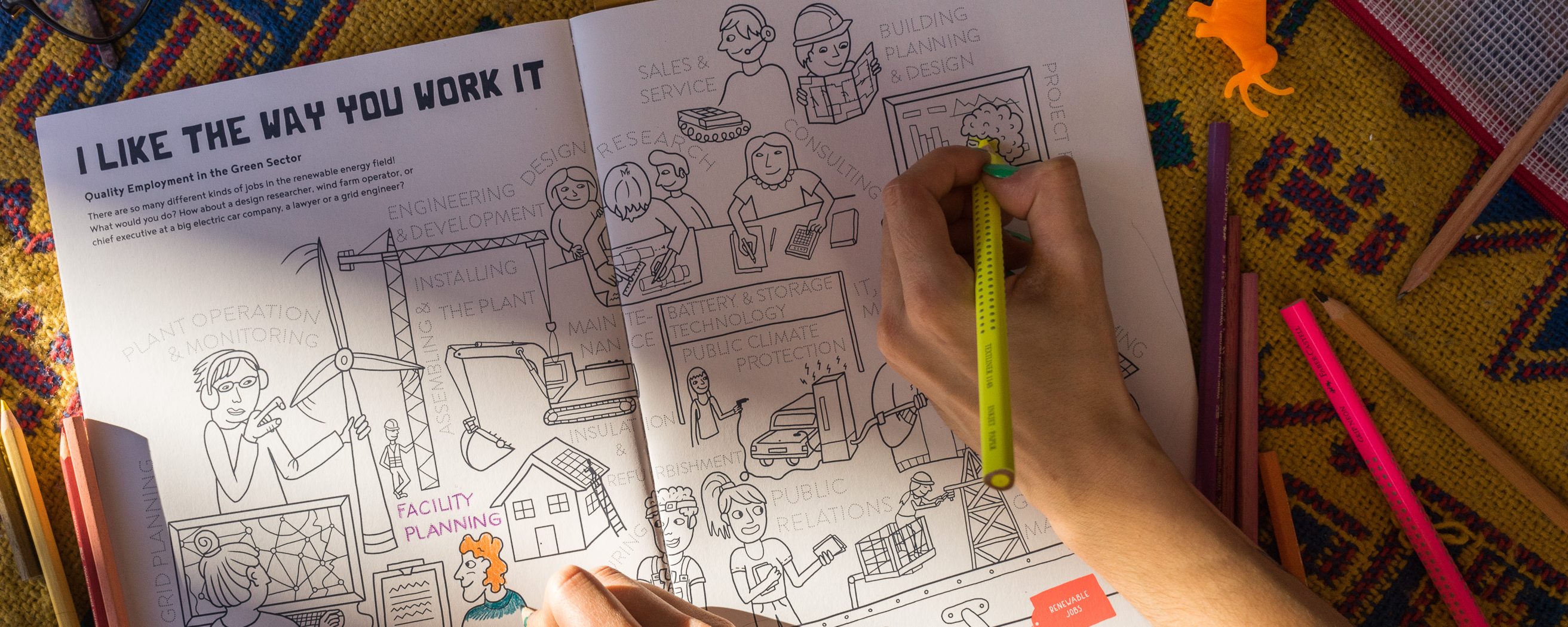 Curbing climate change is a daunting process beset with formidable challenges. The fruit of a collaboration between IKEM and Berlin-based Ellery Studio for Creative Strategies, The Infographic Energy Transition Coloring Book seeks to bring more people into the conversation around energy transition policies with easy-to-understand illustrations and infographics.
There is a great deal of data about the dire effects of climate change on our planet, but much of the information on mitigation technologies and policy changes being developed to combat climate change is written in dense language. The reports of agencies and governments are full of technical talk, acronyms and jargon, and quantitative concepts that can be difficult to wrap your head around. Citizens must overcome these barriers to effectively participate in decision-making.
In response to this need, IKEM and Ellery Studio developed the Infographic Energy Transition Coloring Book, a physical tool that helps break down Germany's move towards clean energy, and illustrate the route for other countries seeking to cut back carbon emissions. The book is the result of a collaborative endeavor begun in summer of 2017. IKEM brought in a team with a great deal of scientific expertise and Ellery Studio translated their research into visuals that can easily be understood and engaged with.
The idea to create a coloring book grew from the renaissance of adult coloring books connected to a need to bring tactile pursuits back in the lives of people who spend most of their time on digital devices. The Infographic Energy Transition Coloring Book therefore promotes mindfulness and creativity combined with education and entertainment. Our hope is that an entertained and better-informed public will make wiser decisions about renewable energy and that we can dispel common myths about the green energy transition in a lighthearted way.
The first edition of the coloring book came out in 2017, right after the signature of the Paris Agreement. Since then, the Infographic Energy Transition Coloring Book has won a number of prestigious design awards, including the Malofiej World Infographic Summit and the European Design Awards. The second edition, responding to a growing awareness of the looming climate emergency, was published in August 2018. Most recently, a successful Kickstarter campaign raised funds for an expanded and revised third edition. The release is planned for December 2019.
The Infographic Energy Transition Coloring Book Book

Ellery Studio, Berlin, 2017.
Contact:
Anika Nicolaas Ponder
Magazinstraße 15-16 | D-10179 Berlin
Tel. +49 (0)30 40 81 87 015
Awards:
Alumni Engagement Innovation Fund 2018, U.S. Department of State, finalist
dpa-infografik award 2018, category: Corporate and Public Relations, winner
European Design Award 18, category: "Infographic", Gold
World Changing Ideas Award 2018, Fast Company, finalist
Malofiej Awards 26, Main category: "Climate Change and Environmental Commitment, Print", winner
Malofiej Awards 26, category "Criteria Informative Format", Gold
Further Information:
Coloring Book Website
Ellery Studio