With the research academy, IKEM has created a platform that combines excellent basic research on questions of climate protection in all sectors with scientific exchange and the promotion of young talent.
Basic research, scientific exchange and the promotion of young talent
Basic research – current projects
Promotion of young talent
We are committed to the training of young scientists and offer them the opportunity to complete their theses and doctorates in an interdisciplinary and practice-oriented environment. With the Graduate School on Climate Law, we are providing new ideas for the training of lawyers.
Dissertation subject: e-Highway: Rechtliche Aspekte der Elektromobilität für den Straßengüterfernverkehr
Dissertation subject: Zugang, Nutzung und Flexibilität von Stromverteilnetzen im Kontext der Energie- und Verkehrswende
Dissertation subject: Legal barriers of thermal efficiency improvement in dwellings populated by low-income tenants and opportunities to overcome them. Case study of Germany
Dissertation subject: Gemeingebrauch und Sondernutzung – Flächenkonflikte im öffentlichen Raum durch neue Mobilitätsformen
Dissertation subject: Klimaschutzbezogene Publizitätspflichten in der Finanz- und Realwirtschaft
Graduate school on climate law
Global scientific exchange
Effective climate protection only works together and only globally. That is why the IKEM Research Academy connects climate protection scientists and participates in national and international research projects.
Since 2004, the IKEM Academy "Energy and Climate" provides a forum for young researchers, experts and interested parties from all over the world to discuss current issues in energy and climate protection policy.
The IKEM Academy was founded 2004 by Prof. Dr. Rodi and has been organized by the IKEM Sustainability and Innovation team ever since
Contribution to the Intergovernmental Panel on Climate Change (IPCC)
On behalf of the Intergovernmental Panel on Climate Change (IPCC), scientists from around the world compile the current status of climate research. IKEM also participates in the work of the IPCC, among other things by participating in the assessment reports.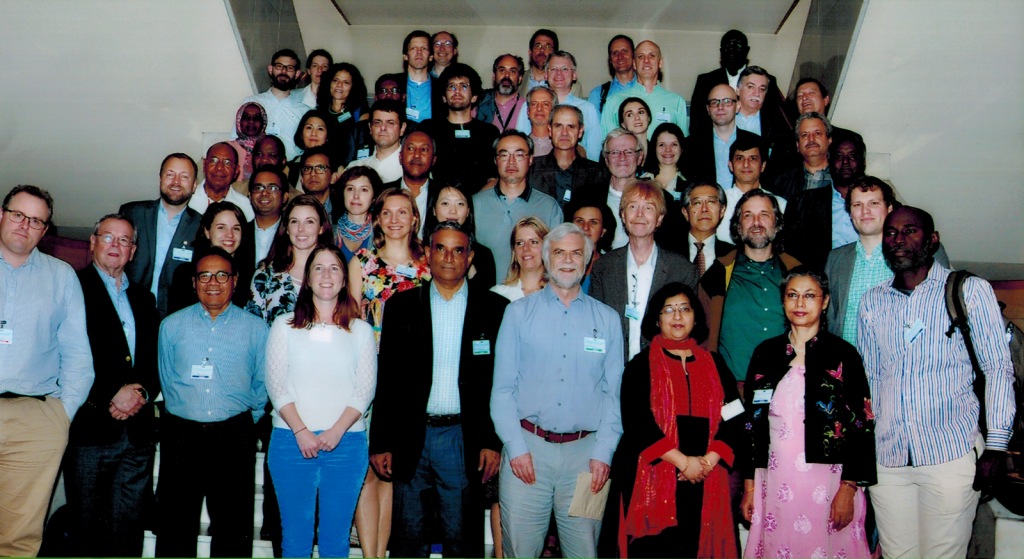 Quelle: IPCC
IKEM presence at the COP climate conferences
The IKEM is involved in the climate conferences through its scientific work and organizes side events in order to exchange ideas with other research institutions, decision-makers and representatives of civil society.
Solidarity and cooperation with Ukraine
IKEM expresses its solidarity with Ukraine. Together with our strategic partner Becker Büttner Held, we collected around 75,000 euros, which will benefit our partner university in Kharkiv and other aid organizations. In addition, IKEM has expanded its collaboration with the Ukrainian research community. With the signing of further cooperation agreements, among others with the National Law University of Jaroslaw Mudry, the aim is to work together on projects and publications on the topics of environmental and climate law, energy efficiency, climate protection, and innovation.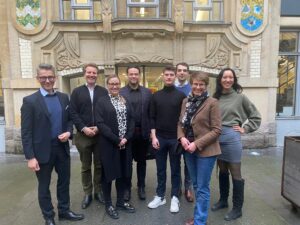 International cooperation
Climate change does not respect borders. That is why international networking is indispensable in climate research. Ukraine, Finland, Brazil, Spain, USA, Israel, Scotland – IKEM has been working closely with renowned research institutions from all over the world since its foundation. This cooperation and the scientific exchange with our partners come together in our International Climate Law Network.
We would be delighted about your contribution to the IKEM Research Academy!
You can make your donation by transferring it directly to our donation account:
IBAN: DE 2843 0609 6712 2718 0100
BIC: GENODEM1GLS (GLS Gemeinschaftsbank eG)
Purpose: "IKEM Forschungsakademie"
IKEM is a non-profit organisation, which makes all contributions to us tax-deductible. For donations of up to €200, a bank record provided to the tax office is sufficient to claim the tax deduction. To request a donation receipt, please contact us at info@ikem.de.